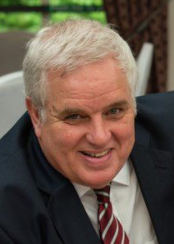 Kevin Hughes (1957-2021)
It is with deep regret that the Community Council announce the death of County Councillor Kevin Hughes on Friday 8th January 2021 from Covid-19.
On behalf of the whole Gwernymynydd and Cadole Community, the council send their sincere condolences to his wife Sally and the rest of Kevin's family.
Kevin was a superb councillor and a well loved friend and neighbour. We shall all miss him greatly.
Kevin's funeral took take place on Friday 22nd January. Unfortunately attendance at the Crematorium was strictly limited and by invitation only due to Covid-19. However the hearse and family left Godre'r Coed at around 11:15 and their route out of the village was lined with friends and neighbours paying their respects to a great man. There was also a gathering of many people outside Sally and Kevin's house the previous evening for a community clap and the funeral service itself was livestreamed to a wide audience.
Council Meetings
During the Covid-19 lockdown, Council meetings are currently held remotely.
The last meeting took place on Thursday 21st January 2021. To view the Minutes for the January meeting click here
The next meeting will take place on Thursday 25th February 2021. To view the Agenda for the February meeting click here
The Village Centre produces a free newsletter that is delivered to each home. A Community Development Plan was produced in 2012.